Best Garage Shelves: Using Ikea Bror Shelving for Garage Organization
June 12, 2021
This post is about the best garage shelves for storage and organization.
When searching for garage storage solutions, we wanted to find the best garage shelves that looked clean and modern with good value for money. We came across the Ikea Bror shelving units for our garage organization project. This was the best value option we found for heavy duty garage shelving and in this post, we're sharing our whole experience and impression of the Ikea Bror!
---
Best Garage Shelves: Ikea Bror Shelving Units
JUMP TO…
Garage Makeover: The Before
Last August, we decided to (finally) tackle a much-needed garage makeover so that the space could actually function as a workspace for Tim to work on his car.
The main problem was not having garage shelves that maximized our space. We had two short shelves that were meant for temporary use when we first moved in and it ended up with random junk piled on it with no organization system at all.
It was definitely time to purge items we didn't use anymore, which really helped to clear out space and give us a better idea of what garage organization solutions we needed.
Researching Garage Storage Solutions
We wanted to find the best garage shelves that looked clean and modern with good value for money. At first, we considered using wall mounted garage shelving, but soon decided against it because it was going to be more work to look for studs, drill, and make sure the shelves would be strong enough. Also, we wanted to maximize the entire wall space from floor to ceiling, and at that point decided to look for heavy-duty garage shelving that we could also take with us to our next house.
As far as looks, I wanted garage shelves that didn't look too industrial (or ugly). We have a pretty small garage and I didn't want our eyes to be drawn to a heavy black shelf on the wall. It was a priority to purchase white shelves to make our garage feel brighter, bigger, and more airy. But I didn't really find much that stood out to me when searching for white garage shelves on Amazon.
Picking the Ikea Bror Shelving Units
We had a really good experience with the Ikea PAX closet system for our bedroom, so I was curious to see if Ikea had any good quality shelving units designed for garages. I searched on the Ikea website for heavy-duty garage shelving and came across the Ikea Bror shelving system.
I really liked that there were so many options for garage storage solutions to fit a variety of needs. Even better, the shelving came in not just black, but also white!
Designing with the Ikea Bror Planner
I absolutely love the customizability of the Bror planner and easily came up with our garage shelving design. I really liked that there were a few different shelving width and height size options to choose from.
This was super important for us since our garage's side wall, where the shelves would be placed, is pretty shallow and a lot of other garage shelf options I found previously were too deep to fit in that area.
Mixing and Matching Bror Parts
My favorite part about using the Bror shelving units for our garage is being able to mix and match black cabinets to go with the white shelving! This gave our garage shelves a really unique modern look, while also getting the functionality of closed storage as well, which is a definite plus!
Our Bror Shelf Configuration
3 Shelving Units: Each Shelf = Width 33" x Depth 15" x Height 74"
Width 33"

To maximize the entire length of the garage wall space allotted for these shelves, we picked the larger of the two widths available. Having all 3 shelf units be identical gives the entire shelving unit a cohesive and symmetrical look.

Width options

: 25 ⅝" or 33 ½"


Depth 15"

We went with the 15 ¾" depth option, which fits perfectly in our garage without blocking the garage door and with enough space for our car to park in front of it. If you have enough space in your garage and want to store large bins on the shelves, definitely go for the deeper option!

Depth options

: 15 ¾" or 21 ⅝"


Height 74"

We chose the taller option to maximize the vertical space of our garage wall.

Height options

: 43 ¼" or 74 ¾"
How much did our garage shelves cost?
For our specific Bror configuration, the total cost before tax came out to be $594. Purchasing three Bror cabinets definitely bumps up the total cost, but for the look and function, we thought it was worth it.
Assembling Bror Shelves and Cabinets
Building the shelves and cabinets was pretty simple just following the directions given by Ikea. The manual says that two people are needed to assemble the Bror, although Tim managed to do most of it by himself (I was in my first trimester and resting in bed while he worked on it haha). The only part I helped was attaching the cabinets to the shelving unit. The entire assembly was completed within one evening.
Helpful Tools for Bror Assembly
To hammer the shelves in place, use a rubber mallet to avoid making any dents. Another helpful tool that made the process easier and go by much faster was using a ratcheting socket wrench with a universal swivel and hex bit, instead of the Ikea allen wrench, especially in these harder to reach spots shown below. The universal joint / swivel allows you to get into tight spots like this.
Finished and Assembled Bror Shelving
BEFORE

: Garage Makeover
Remember what this space looked like before?
AFTER

: New and Improved Garage Organization
Overall Review of the Ikea Bror
PROS: Bror Shelves
These shelving units are powder coated galvanized steel, making them extremely strong and sturdy. Tim's automotive tools are very heavy but the shelves have held up great so far with no bending at all. The Bror metal shelves are easy to wipe clean and look great even after almost a year of use.
There are so many options to choose from and being able to choose specific parts that fit your needs is the best part about using this shelving system for your garage! The cabinets are great as closed storage to hide clutter and smaller items that don't look as nice displayed on the shelf.
We love having the color options of either black or white and also love the look of the Bror not being too industrial. In our opinion, the value for money is good considering how nice the shelving unit looks and how sturdy it is.
CONS: Bror Shelves
One shelf came slightly dented and we didn't want to deal with exchanging it, so Tim bent it back as best he could and we just used that particular shelf on the very top where it's not seen. Also, the cabinet doors were a little flimsier than we expected, but it wasn't a deal breaker.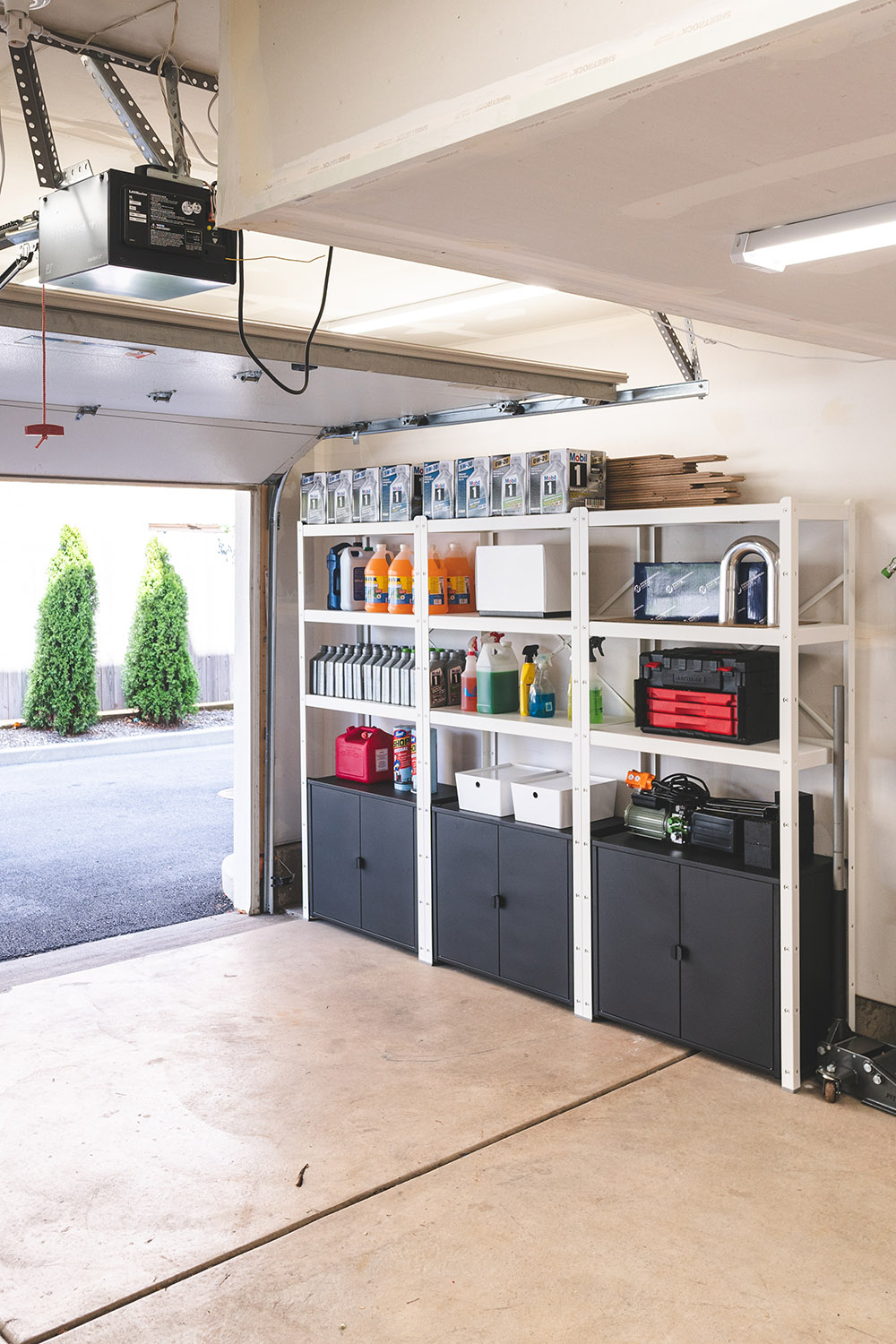 We LOVE how our garage shelves turned out and it looks way nicer than we ever thought garage shelves could look! It's nice that we can also take these to our next house since nothing is permanently mounted to the garage wall. The Ikea Bror shelving system is the best garage shelving we've found and we will 100% purchase these again for other heavy-duty storage needs. 
Follow on IG @vivandtim.home for more home inspiration!
The post was all about the best garage shelves for storage and organization.
---
SAVE & PIN FOR LATER:
Comments (8)